Phil Lawrence Mandolinist/Guitarist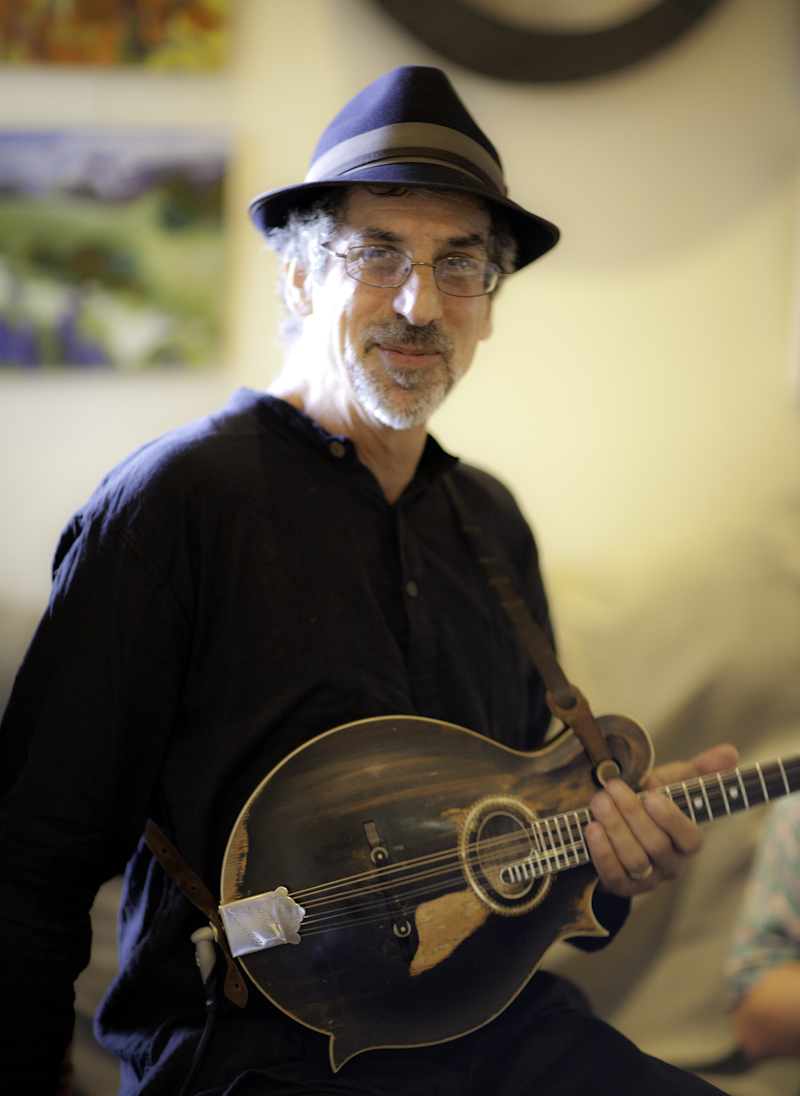 Phil's Music Bio
August 1969 --Age 15, attended Woodstock Festival and experienced music for the first time, really. A singular transformative event, from Richie Havens's opening call to freedom to Ravi Shankar's melodic meditations on the sitar. Left at midnight on Friday as Ravi Shankar was playing, but that was enough. The change had occurred. Music becomes an important part of life.
October 1975 to August 1977--Began playing music in public in Europe. Played on the streets of cities from Dublin to Athens, from Paris to Copenhagen, and all over Germany, Italy, and Switzerland. Guitar and harmonica main instruments. Main influences: Bob Dylan, The Grateful Dead, David Bromberg, Hot Tuna. Meets and jams with Jorma Kaukonnen from Jefferson Airplane and Hot Tuna in Copenhagen, August 1976. The meeting proves to be an ongoing source of inspiration. While in Munich, Germany, Phil also was befriended by and performed in concert with Remigius Drechsler of the progressive German rock/jazz fusion band Out of Focus. Remi was also temporarily a member of the seminal German fusion band Embryo.
October 1977 to October 1990--Settled in San Francisco
October 1978--Purchased first mandolin, an Ibanez round back, on 25th birthday.
1978-83. Played lead guitar and mandolin with Phil Zamora in the musical duo Phil and Phil (my name always came first!) and then with the The Zamora Band, a rock and roll ensemble. (Phil Zamora currently perfoms with the tribute band, Just Cream)
1981-- Performed with Michael Berst, hammered dulcimer player, and released cassette recording, Ragtime Annie, featuring Michael on hammered dulcimer and Phil on mandolin and guitar. Cassette recordings were sold on the streets of San Francisco at Fisherman's Wharf to tourists.
1981-82--played with Snooze You Looze, a San Francisco bluegrass band, at the San Francisco cable car turnaround at Fisherman's Wharf, before a "captive audience".
Also plays and records with Doug Closson as an opening acoustic act for Bill Staines in San Francisco. Plays mandolin on Doug's album/CD Captivated Heart, on the last track, "The Mary Ellen Carter." David Rea, composer of "Mississippi Queen," plays guitar on this track.
1982--Produced first featured cassette recording, Phil Lawrence Plays Mandolin and Guitar. The cassette includes original instrumentals by Phil Lawrence for mandolin, as well as covers of well-known standards. These also sold on the streets of San Francisco and Berkeley's Telegraph Avenue.
May 1981--appears playing guitar with Michael Berst on The Perry Como San Francisco Special on national TV. Broadcast on Mother's Day. Mom was watching.
1983--Plays with Simon Dray, French singer-songwriter, on KUSF radio in San Francisco every Friday evening live with "The French Connection".
Performs with Rudy Cipolla, mandolinist and composer, at The Freight and Salvage in Berkeley.
Plays with David Rea, guitarist-songwriter, and author of the song "Mississippi Queen".
Plays with Joe Veros, singer/songwriter at the Cannery at Fisherman's Wharf in San Francisco. 1983-86 approx.
1984&--Produced The Brooklyn Rag cassette recording, original instrumentals for mandolin and string ensemble.
1986-87--Produced Sweet Amnesia cassette recording of the Sweet Amnesia trio, featuring the vocal talents of Katie Carlson.
1989-1991--The Phil Lawrence Band includes Radim Zenkl on mandolin and Joe Yamamoto on violin. Band performs in coffee houses in San Francisco.
1990 July 1-6--Meets and jams with Don Ross, Canadian finger-picking guitarist virtuoso, at the Rainbow Gathering in Northern Minnesota. Campfire jams every night in a remote wilderness area on the Canadian border near Thunder Bay with Don and his wife, Kelly McGowan. Magical music in the deep forest.

1990 and 1991—Played with the Klezmer West Orchestra at the Hanukah concerts in the Julia Morgan Theater in Berkeley and the Masonic Auditorium in Oakland. The orchestra included David Grisman and members of his quintet, Rudy Cipolla, as well as many of the Bay Area's best Klezmer musicians: The Klezmorim, Ellis Island, and Gerry Tenney to name a few.
1990--Produced the Mandolin Mezzotints CD, a full 60-minute recording of original and standard instrumentals. Radim Zenkl, the renowned Czech mandolinist, appears as guest musician on the CD.
1991--Married and starts family. Moves to Sonoma County.
1991-1993--Plays with Redwood Highway, a country-rock acoustic quartet featuring Karen Akin, vocalist, Andy Padlo, songwriter, and Joe Yamamoto on violin. A cassette recording of this band is produced. Band performs on National Public Radio station in Stockton, Ca. and for the National Endowment for the Arts in Downieville, Ca. Band also opens up for Robin and Linda Williams at the Freight and Salvage in Berkeley, Ca.
1994-7-- Plays lead electric guitar in the Biocentrics, a reggae band in Sonoma County. The band later reforms as The Bear Bones Band (see below).
1999-2003--Performs with Silk and Steel and The Three Amigos, an acoustic folk-rock trio in Petaluma. Silk and Steel produces CD, Silk and Steel, which receives airplay on Sonoma County radio stations.
Oct1, 1999--Silk and Steel performs at The High Sierra Music Festival at Stafford Lake, Novato on the same bill as The David Grisman Quintet, The Yonder Mountain String Band, and The Joe Craven Trio.
A review of Silk and Steel's CD follows:
"The delicate cover photograph of thistles growing by a wooden post fence effectively captures the style and feel of the eponymous debut album by Silk and Steel, a trio comprised of singer/songwriters Susanna Praetzel and Michael Rosloff and instrumentalist Phil Lawrence. Silk and Steel's musical approach is a clear-eyed, modernist synthesis of the best of their country-rock forebears. Among the fourteen tracks, all composed by Praetzel or co-composed with Rosloff, there are deft guitar flourishes that bring to mind early Dire Straits, magnificent pedal steel and mandolin work recalling Poco's best early albums, with the occasional honky-tonk piano solo and harmonica fills, all of which lend an Americana-authenticity to the production." -- Nancy Heyman Review by Gajoob Magazine http://bagelrecords.com/
2000-2002--Performs with Too Many Cooks, a Sonoma County folk-rock band. In 2001 the band followed Taj Mahal on stage at The Health and Harmony Festival in Santa Rosa, California. T'was a thrill.
2000 Winter approx--Stevie Coyle and Chojo Jacque, original founding members of The Waybacks, invite Phil to jam with them onstage at The Rose and Thistle in Santa Rosa, Ca.
2000-2014--Performs with Jubilee Klezmer Ensemble. Jubilee produces four CDs, Mazel Tov, Raisins and Almonds, The Rabbi's Farewell, and Chiribimbimbam.. Jubilee appears live on KRCB, National Public Radio, in Sonoma County. Jubilee performs with Josh Horowitz from the Budowitz band at the San Francisco Jewish Community Center and at numerous festivals and private events.
Sept 2001--Plays on a live radio broadcast with The Yonder Mountain String Band at the Strawberry Music Festival. Substituted for Jeff Austin that evening round the campsite. Big shoes to fill, but hey, will wing anything.
March 2003--Performs with David Grisman at a mandolin workshop at Petaluma High School. David Grisman recorded and performed with Jerry Garcia and The Grateful Dead.
Jan. 2004--Gypsy Djazz, a Django Reinhardt hot-swing acoustic band, performs on New Year's Eve and plays local clubs and private parties throughout the Bay Area for one and half years. Evan Morgan, formerly with The New Riders of the Purple Sage, plays the guitar in the band. Gus Garelick, a former member of Dan Hicks and his Hot Licks, plays violin in the band. Gus also performed with Hank Williams Jr. and Queen Ida. (Gus Garelick currently plays with The Hot Frittatas.)
August 2004--Performs in concert with David Grisman, Chris Thile, Mike Compton, Radim Zenkl, Mike Marshall, John Paul Jones (of Led Zeppelin), and Don Stiernberg in Santa Cruz at the Mandolin Symposium. Phil is hired as an assistant instructor by David Grisman at the Mandolin Symposium and co-teaches beginner classes with the main faculty members above.
August 2005 and 2006--rejoins the Mandolin Symposium and performs in David Grisman's Ensemble each year.
2006-2007 Plays with The Bear Bones Band in Sonoma County on electric guitar and mandolin.
January 2005-December 31 2008 --Forms The DLT 3, an acoustic jazz trio, with Stephen Tamborski on guitar and vocals, and Dalton Dillingham III on 6-string upright bass. The DLT 3 releases recordings, Play It Cool, Play It Hot and Spontaneity Thrilled the Cat. Also continues to perform with Jubilee Klezmer Ensemble.
January 2009 2010--Reforms The Phil Lawrence Band with Paul Gruen on guitar, Dalton Dillingham III on six-string bass, and David LaFlamme from It's a Beautiful Day and "White Bird"on violin/guitar. Plays local venues in Sonoma County. Establishes YouTube Channel. Records with Jubilee Klezmer Ensemble and releases The Rabbi's Farewell CD. Also records Alby Kass, Singer of Yiddish Songs, a live concert CD with Alby Kass, vocalist, and Jubilee Klezmer Ensemble.
2010-Present--Forms Mandolin Mandalas with Lisa Sangita Moskow on tablas, and later with Sahar on tablas. Produced Mandolin Mandalas recording and performs at local art galleries and yoga studios.
2011-Present--Another reformation: The Phil Lawrence Band renames itself The LaFlamme-Lawrence Ensemble and then later, It's A Beautiful Day Acoustic, with David LaFlamme fronting the band, singing lead vocals, and with Linda LaFlamme singing harmony vocals. Ned Boynton and Ned Ripple play the guitar parts, and Jeff Martin or Eddie Guthman play the acoustic upright bass. The band incorporates classic songs from It's A Beautiful Day's early San Francisco period as well as original instrumental compositions by Phil Lawrence. The band records an EP at Studio E in Sebastopol. David Grisman appears as a guest on two tracks on the EP.
April 2012-Present--Hosts "Mandolins, Cabbages, and Kings" Radio show on KOWS 107.3 FM every other Tuesday evening from 6-8 PM. The show includes interviews with guests, live performances in the studio by local bands, and recorded music from every genre.
2013 Joins with The Windshield Cowboys
2014 Performs with Teresa Tudury
December 2016-- Publishes Mandolin Heaven CD with special guests David Grisman and David LaFlamme, an extension and expansion of the earlier EP
January 2018 Publishes Blue Fire CD--all original compositions. Phil plays all the guitar parts and the percussion parts as well as mandolins.
January 2018--opens up for Van Morrison with The Windshield Cowboys
March 2018--Publushes Echoes of the Silent Fountain CD--a tribute CD of all Italian tradional folk music and muic by 19th and 20th century Italian composers
October 2018--Published song "The Fires of '17" Phil Lawrence wrote the lyrics, Michael Rofkar the music, and Greenhouse performed the song.