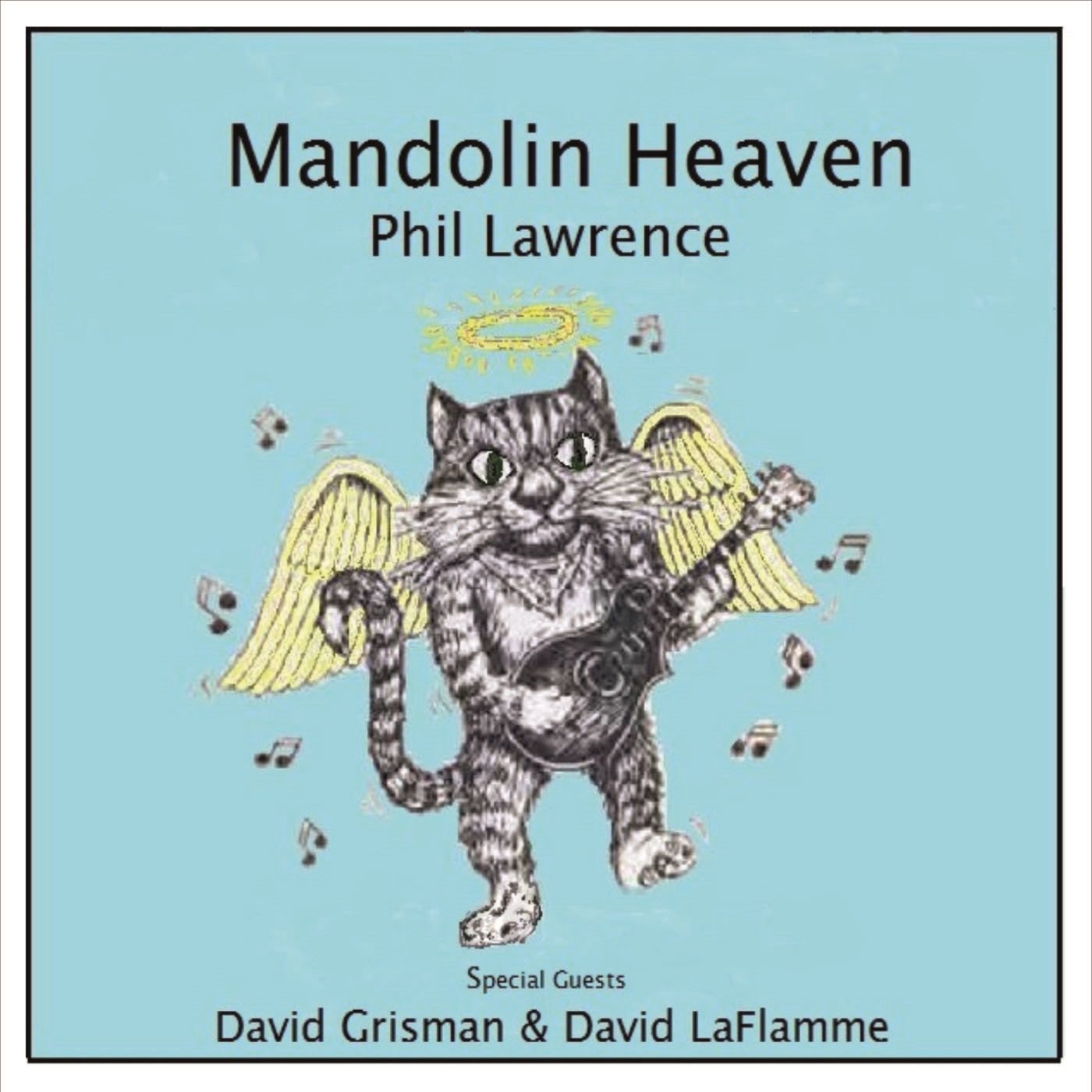 Born on December 4, 2016, "Mandolin Heaven" contains fourteen original acoustic, instrumental tunes by Phil Lawrence, and one standard. The musical style has elements of Gypsy and Latin jazz. Phil Lawrence's main influences have been mandolinist David Grisman and the legendary guitarist Django Reinhardt. The CD is titled "Mandolin Heaven" because Phil is in the company of so many great musicians, including Grisman and violinist David LaFlamme of It's A Beautiful Day, the Sixties San Francisco band famous for the songs "White Bird", "Hot Summer Day", and "Girl With No Eyes."
The tracks alternate between energetic tempos and slow dramatic ballads. There are a few lively jazz waltzes, some straight ahead swing tunes, a couple of tunes that hearken to oldtime rags, a blues, and even a Middle Eastern style meditative improvisation to close the CD. Phil plays mandolin on all the tracks, except the last one where he plays balalaika, percussion, and keyboards. He plays guitar on eight tracks, and on the other tracks he is accompanied on guitar by Ned Boynton, Ned Ripple, and/or Almir Cortes. Jeff Martin plays the acoustic upright bass on five tracks; Eddie Guthman plays bass on all the others; Carrie Krueger has added her flute to two tunes; Richard Lohyde kicks off the CD with his violin artistry on the first track and adds his skill to two other pieces. Joe Yamamoto plays violin on "Viper's Dream", which was recorded live in KPFA Radio's studio in March of 2015. Patrick Fahey, who was the first mandolin player Phil ever met and who introduced Phil to the instrument, adds his mandolin to "Crying". David LaFlamme plays violin or viola on eight tracks; David Grisman appears on "The Purple Rose" and on "When Mandolins Weep".
Tracks 2, 8, 10, 11, & 12 were recorded and mixed at Studio E in Sebastopol, California by Jeff Martin and Jason Andrews in March 2014. These were whole band efforts with all the musicians playing live in the studio, and later revisiting their parts whenever necessary to make improvements. All the other tracks (except "Viper's Dream") were recorded by Phil in his home studio in Sebastopol between July 2015 and September 2016. These tracks were overdubbed layer by layer one at a time. Phil plays as many as five mandolins or five or six guitars on most of these numbers, which allows him to create textures and harmonies and a solid rhythmic pulse. In addition, this recording technique allows him to solo on both mandolin and guitar. (On "Sausalito Rag" Phil plays tenor banjo as well, which gives this tune an "authentic" feeling.) Eddie Guthman would then step in and add his artistry on the bass. Phil could then call on other soloists to come and take their turns adding melodies and improvisations. And that's how the tunes came together. Jeff Martin assisted with the mixes on some of these tunes ( "Jasper's Waltz" "Flame of Desire" "Samba de Sonoma"), and on others Phil decided that his own mixes were pretty good as they were. Again, Jeff Martin assisted with the mastering.
All of these compositions are available in musical notation in Phil's book "Original Compositions for Mandolin & All Other Instruments"
*******************************************************************
Special thanks to all the musicians named above. They volunteered their time and skill. It has been an honor to work with them and I feel blessed by their willingness to participate in this project. I should say I am especially grateful to David Grisman, who performed on two tunes unsolicited and without my knowledge even. Imagine my surprise when I received a phone call from Jeff Martin at Studio E informing me that "The Dawg" had overdubbed parts to my compositions. To the great David LaFlamme, who has been an inspiration to me and a kind and generous friend, thank you for all the music and the exquisite violin playing. Thank you to Ken Edwards, who started me on the path to professional quality recording in the home studio. Gratitude to Laura Lind, who made sure that I inherited a microphone from Searle Whitney, to whom I also am indebted. The memory and kind spirit of Searle is what originally motivated me to complete this project in my home studio. His microphone, an AK 4033A, was used as a second source, along with a C1000S, to record my Gibson mandolin and my Gitane guitar, as well as all the other players' tracks. I really needed a second good mike to get started, and Searle, through Laura, enabled this whole process. I thank Bob Gorman and my sister, who contributed to the project in their own way. Without my wife's patience, love, and understanding, none of this would be possible.