Silk and Steel Reviews
"Silk and Steel makes music the old-fashioned way--they play it. Susanna Praetzel, Michael Rosloff and Phil Lawrence sound like they're sitting around their front porch on a warm evening, picking gentle melodies on sweet guitars, singing beautiful harmonies, with enough wonderful songs to last all night."
-- Joel Selvin, of the San Francisco Chronicle

"Listening to Silk and Steel's album is like reading a novel, or hearing a performance of Mahler's sixth symphony. You grow. You become a better person. This is a great album because of the skilled writing, the fantastic singing, and most importantly the range of topics written about with such sensitivity."
--Russ Jennings, on Across the Great Divide, KPFA Radio

"Silk and Steel's album is original and arresting, dealing with contemporary subject matter rarely heard on the pop scene."
--Richard Herr, KZYX Radio, Philo

"Silk and Steel's songs never fail to move me--sometimes to tears, often to laughter. Their insightful lyrics and heartfelt vocals enrich and affirm our lives. As I work on my books, I listen to their album, and it always inspires me.
--Elisa Klevin, author of children's books

"Silk and Steel is a wonderful CD! I just loved it. The songs are strong, original, and hauntingly beautiful."
--Marilee Strong, author of A Bright Red Scream

"Silk and Steel's beautiful lyrics and achingly lovely harmonies moved me profoundly. This is a CD I keep handy, and play over and over again."
--Ayelet Waldman, author of A Playdate with Death

"Silk and Steel - They will comfort your soul, challenge your mind, and surprise - make you laugh! Silk and Steel will carry you through the millennium."
--Carol Horn, poet

"The delicate cover photograph of thistles growing by a wooden post fence effectively captures the style and feel of the eponymous debut album by Silk and Steel, a trio comprised of singer/songwriters Susanna Praetzel and Michael Rosloff and instrumentalist Phil Lawrence. Silk and Steel's musical approach is a clear-eyed, modernist synthesis of the best of their country-rock forebears. Among the fourteen tracks, all composed by Praetzel or co-composed with Rosloff, there are deft guitar flourishes that bring to mind early Dire Straits, magnificent pedal steel and mandolin work recalling Poco's best early albums, with the occasional honky-tonk piano solo and harmonica fills, all of which lend an Americana-authenticity to the production.

Topping the pristine arrangements are Praetzel's and Rosloff's warm and engaging vocals. They have the blend of married musicians (which they are) whose voices twine effortlessly around the ear-sticking melodies, who can anticipate each other's every breath and nuance, and whose harmonies don't necessarily go immediately for the easy intervals but find ones more evocative. Praetzel handles most of the lead vocal responsibilities on the album, and she emanates an easy warmth and intimacy in the tradition of Emmylou Harris and Chrissie Hynde - she has the gift of making the listener feel as if she's singing just to them. Rosloff, who released a wonderful solo album of his own several years ago, has exactly the right velvety tenor to complement the mix.

The theme which ties the album together is that of families - lost and found, or never there at all. Praetzel sings movingly of an unborn child she'll never know in "I Thought I Saw You", and in the album's stand-out track "Everything I Know", her sweet yodel mourns the loss of the lover whom she'd thought would be the one to last. In "Seven Days", Rosloff sings the tale of a man who leaves his family behind for a week to face the way his life has turned out, alone in the wilderness, only to realize by song's end that his life only has meaning in relation to loved ones. There's self-deprecating humor by Praetzel in "The Quiet Men", where she admits to being fooled (though not completely) by outward appearances, and in the whimsical quasi-country lament "Tell Me That You're Gay". Just when you think you know the groove into which Silk and Steel has settled, they throw you a curve with the final song "Journey To The Moon", an ethereal ballad in which Praetzel relinquishes her love, comparing their relationship to both natural and man-made forces which have somehow been thwarted -- the Apollo 13 voyage to the moon which never got there; seeds that are sown that fail to grow; waves that are sucked back out to sea. The combination of Praetzel and Rosloff's lovingly crafted songs with obviously meticulous attention to vocal and instrumental excellence yields an album that is a balm to the eardrums and a salve to the soul, qualities which are more important than ever in the soundtracks of our lives."
-- Nancy Heyman
Serendipity keeps teachers in tune
Members of coffeehouse trio carrying out dreams of performing, when they're not in the classroom
Friday, April 15, 2005 http://www1.pressdemocrat.com/apps/pbcs.dll/article?AID=/20050415/NEWS/504150395/1033/NEWS01
By SHELLEY SHEPHERD KLANER
FOR THE PRESS DEMOCRAT

By day, Phil Lawrence teaches at Petaluma High School.

At night, he and two fellow Bay Area high school teachers are members of a band called Silk and Steel that performs at festivals and coffeehouses.

They will appear Saturday at the next installment of the Petaluma Folk Music Series.

Band members joke that their hours in the classroom augment the time they spend practicing together.

"Being surrounded by teens keeps us young," quipped Lawrence, who plays mandolin, guitar, bass and sings with the band.

Lawrence, 51, who teaches English, can trace his love of music to a teenage encounter across the country with a Petaluma High faculty member and one of the most famous rock concerts ever.

At age 15, the Brooklyn-born Lawrence was working at a summer camp in New York, when he became acquainted with Mike Simpson, the principal at Petaluma High.

Simpson was instrumental in dropping off Lawrence and some other young people at Woodstock for the day.

The experience would have a lasting effect on Lawrence, who had stopped playing the clarinet and the piano to concentrate on basketball. After t he festival , Lawrence bought a harmonica and learn ed guitar.

A devoted fan of the Grateful Dead and Bob Dylan, he took to the streets of San Francisco, trying to build a career in music by performing at bars and living from m oney dropped in his guitar case.

His dream came true with he heard David Grissman live, and then was fortunate enough to play mandolin with his idol. He later appeared on "The Perry Como Show" and other TV programs.

Silk and Steel was formed in 1993 when Michael Rosloff met Susanna Praetzel while substitute teaching in Santa Rosa.

Both were taking time off from full-time teaching to focus on music. Rosloff was playing bass with singer Adina Sara, and Praetzel was lead vocalist for Instant Cowboy and the Human Torches.

The couple eventually married and moved to Petaluma, where they became familiar faces downtown, playing at what was then Copperfield's Cafe in exchange for coffee, meals and postage for mailers.

Rosloff began teaching computer classes at Tamalpais High School in Mill Valley and leading the guitar club after school, while Praetzel concentrated on substitute teaching for the English department at her alma mater, Redwood High School in Kentfield.

"The babies began coming quick and I had to get a real job, " Rosloff said.

For seven years they performed at the Kentucky Street coffee shop. They were introduced to Lawrence, who happened to teach at Petaluma High.

He sat in with the band for a while before joining permanently, and transformed the duo into a trio.

Silk and Steel became regulars at Borders bookstore in Santa Rosa and San Rafael, and played on local radio shows and at music festivals.

Praetzel does most of the writing. Her songs focus on relationships - not the typical boy-meets-girl songs, but tunes about abortion, making choices and regrets in life.

The band released its first CD, "Silk and Steel ," with songs such as "No Right to Cry," " Edge of Your Heart," and "Journey to the Moon."

Lawrence writes his own instrumentals and has recorded several solo CDs, including "Mandolin Mezzotints", "The Brooklyn Rag", and "Phil Lawrence Plays Mandolin and Guitar". He calls his music mandolin jazz, with a touch of Americana.

The teachers enjoy performing together, but admit the concentration required for their day jobs doesn't let them focus on their music as much as they would like. They are currently writing songs for a yet-to-be- named CD due out this year.

Rosloff has a dream: He wants to open his own coffee shop . He would host local musicians and have place to play when he wants.

"It's tough to be a good teacher and a good musician," he said.
Entertainment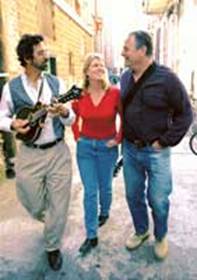 Phil Lawrence, Susanna Praetzel and Michael Rosloff will perform May 15 at the Petaluma Folk Music Concerts series. Photo by Terry Hankins.
Silk and Steel: Teachers who make music
What do high school teachers and folk musicians have in common? No, it isn't a joke. The trio known as Silk and Steel is comprised of three teachers. Susanna Praetzel, a former English teacher at Redwood High School in Corte Madera and Michael Rosloff, a computer science teacher at Tamalpais High School in Mill Valley, are the married singer/songwriter pair who birthed the band within the 11 years they've been together. Phil Lawrence, an English teacher at Petaluma High, plays mandolin and guitar.
Full story
Ear Magazine
Volume 13, Number 2 April 1988
"As Heard on the Street"
by F.S. Stoneback
The urban street has been an institution since the beginning of culture. The urbanist scholar Jane Jacobs argues persuasively that marketplaces and the towns that surrounded them actually predated formal agriculture. She says (in her theory built around the trading of obsidian) that only in an urban context could there have been the concentration of labor needed to separate and raise seed crops. So, wandering hunters and gatherers would pass through an urban setting founded on the strength of some primitive form of manufacturing/mining where they would trade for food products. From that concentration of bodies came the professional entertainer whose occupation wasn't necessarily linked to a shamanistic function. The traveling singer, bone flutist, or what have you, probably rivals the prostitute as the oldest non-tribal professional. It is not surprising that in some cultures, prostitution and music making are still closely linked.
Crossing the Mississippi, one finds communities whose roots are less than a century old. In those communities there is often a fundamental deterioration of what constitutes a street. The 20th century has seen the ravages of the two greatest villains of modern culture: Frank Lloyd Wright and Henry Ford, who, between them, have impoverished and denuded the American landscape—Wright by popularizing and romanticizing the suburb, which led to the creation of middle-class wastelands, and Ford by making cheap cars so that anyone could commute (and pollute) by private transportation. The automobile and the ranch house dealt a major blow to the tradition of street music. Imagine the difficulty of entertaining an homogenous audience by the side of the Santa Monica freeway. Even in rush hour, when your audience may creep by at a slow enough speed to enjoy your dulcet tones, playing without a gas mask would be a form of suicide. This is not to say that music played in the centuries-old manner has died, but that the local talent has had to innovate to survive.
Recently, I was frantically searching for a processing lab in the streets of Berkeley, California., and stumbled across a pre-Christmas craft fair, complete with long-haired marshals controlling the crosswalks. While most of the stuff harked back to Berkeley heyday (hand-painted long johns, etc.), one enterprising musician had his schtick down to a science.
Phil Lawrence plays mandolin and guitar. Though he teaches, a portion of his income comes from selling tapes of his music at festivals in the Bay Area and on the streets of San Francisco. His booth or table is festooned with color-coded earphones corresponding to the color of labels on the cassettes which he invites you to sample. His simple, homespun music bar (soon to be copied by Tower Records, we are told) is quite effective. The tapes contain a mix of compositions—his own originals and traditional airs. I preferred the earlier music, which was strictly instrumental. Phil's music is a worthwhile addition to your collection. Like most of what is reviewed in this column, it is the product of a home-built studio.
A very different tape was one I collected outside trhe Pasta Bella restaurant on the Podium level of San Francisco's Embarcadero Center. Silent Fountains is a wonderful mixture of Old Italian songs. The two musicians are old folk festival vets who have been playing together for ten years—just for the joy of it. They work the Bay Area's Festival of the Sea, and have played Wolf Trap and the folk festival on the Washington Mall. Gino DiMichele comes from Brooklyn and owns a little guitar shop in San Francisco; 74-year-old Mateo Casserino, a retired cabinet maker from Sicily, plays the mandolin. The songs are played either with professional polish or tired indifference. Although I'm not of Mediterranean stock, Silent Fountains keeps me in pleasant company as I work.
One of the logical places for street music is the shopping mall. Unlike the urban street, the shopping mall is controlled by a private company. More often than not the street musician is banned from setting up by whoever controls the mall. This is a short-sighted policy; malls are designed to replicate the human urban experience. What attracts people to a mall is not just the opportunity to buy, but the chance to watch and listen to other people. The mall operator may perceive the street musician as a parasite, and yet in truth the street entertainer who contributes to the ambience and excitement that brings the shopper out in the first place. Many mall operators have tried to organize and institutionalize the street entertainer with formal musical programming. Sadly, the result is usually bland, uncreative, and uninspired.
There is a natural weeding-out process for street entertainers: those who don't make the grade don't make money. If a mall operator has any legitimate concern, it is that his or her mall not be the place where that weeding-out process takes place. Some mall developers have made a sincere effort to screen and encourage the street musician; yet again, based on bureaucracy, it becomes easier to program for the larger ensemble than to deal with the small group or individual player. While not to criticize or demean the ensemble, much of the historic charm and character of street music is found in the direct relationship formed between the musician and the small audience. What most street musicians exist on, above and beyond their modest earnings, are those magic, intimate, and often non-verbal moments that occur between them and the passing stranger.