Mandolin Swing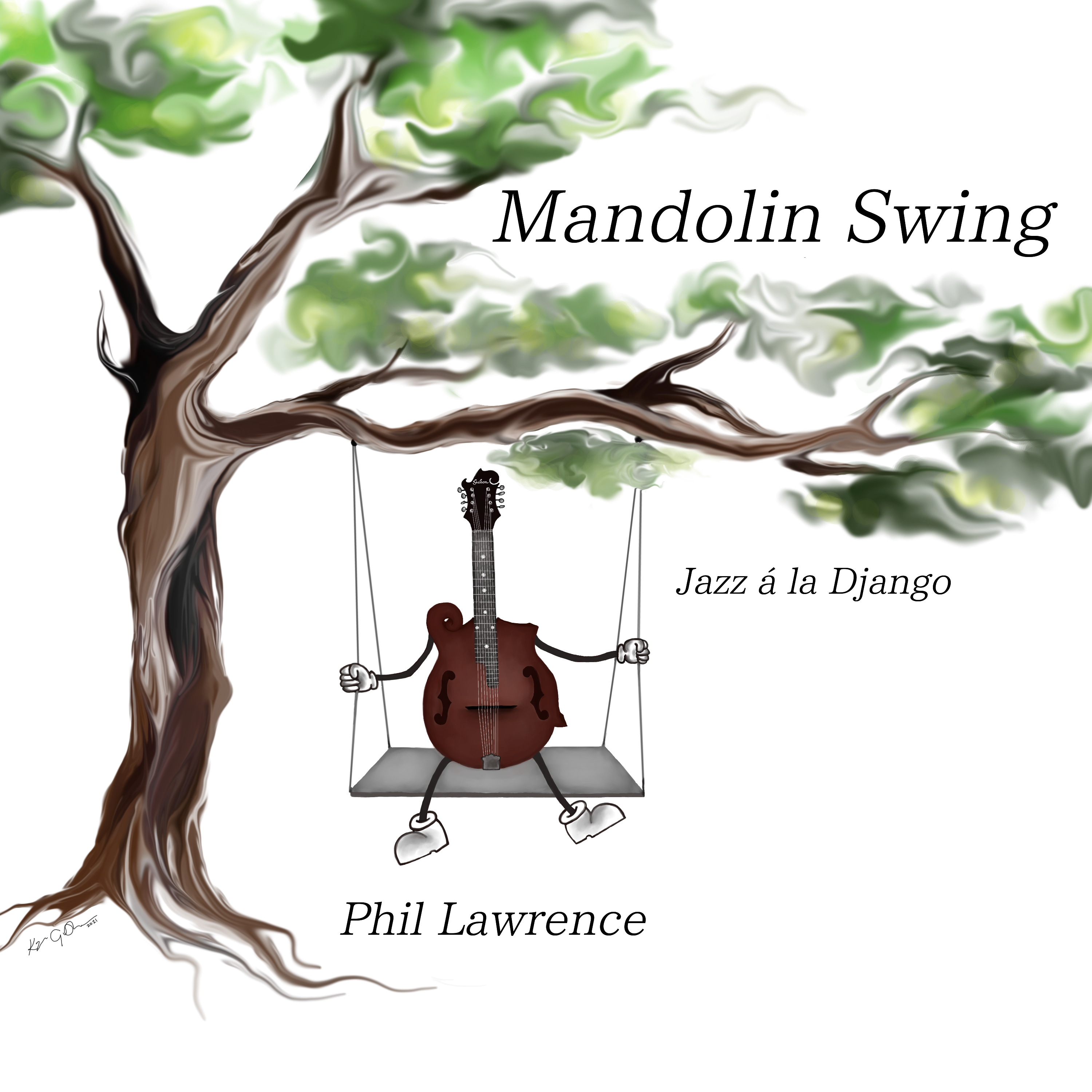 2021
Indiegogo Campaign https://www.indiegogo.com/projects/mandolin-swing/x/26162464#/
Mandolin Swing contains seventeen jazz instrumental tunes mainly from the Django Reinhardt repertoire, all recorded on acoustic string instruments. It features the mandolin playing of Phil Lawrence who recorded, mixed, and edited the music in his home studio in Northern California. The Covid-19 pandemic made getting together with other musicians difficult so Phil recorded most of the guitar and all of the mandolin tracks himself. Rick Fulkerson contributed his exceptional rhythm guitar playing to seven tracks; Eddie Guthman played the upright bass on all the tracks; and David Boyden added his violin expertise to two tracks. The music was mastered at Studio E in Sonoma County, California by Jeff Martin and Jason Andrews.
The album begins with a series of five lively tunes before encountering the first ballad: "Avalon," "Sweet Sue," "Daphne," "Shine," and "Coquette" all employ twin mandolins in harmony to state the melody at the beginnings and ends of the the tunes. The twin mandolins create a rich audio experience that can best be appreciated on a high quality playback system or headphones since the sound is balanced evenly between the left and right sides of the stereo tracks. The lively tempos and simple melodies are embellished by the improvisations and occasional guitar fills between the phrases. These are all dance-able tunes so be prepared to get up and move along with the music.
"In My Solitude" by Duke Ellington introduces the first of five jazz ballads on the album. Phil has doubled the mandolin melody with his acoustic guitar, adding warmth to the phrasing; the guitar also provides counterpoint around the melody. Eddie Guthman's acoustic upright bass enriches the sonic quality, as it does throughout this CD.
"Swing 42" invites the listener right back to get up and dance. David Boyden has contributed a truly Grappelli-esque violin solo and Rick Fulkerson kicks the rhythm into high gear from the very start.
"Fedora Swing" is the sole original track on this CD. Chances are the listener would not be able to tell because it fits the genre so perfectly. "Easter Parade" is played at a stately tempo, suitable for parading down Fifth Avenue where Phil's father used to to take him on Easter Day as a young child. Again the harmony mandolins enhance the overall emotion in the song.
"Nuages," a Django Reinhardt favorite, is performed as a straight ahead jazz trio—one mandolin, one guitar, and the upright bass—simplifying the sound and thereby emphasizing the melody and the improvisations. Django fans will especially appreciate this interpretation of the classic ballad.
"When the Red Red Robin Comes Bob Bob Bobbing Along" will get you dancing again. This medium tempo piece has always been a favorite of Phil's because of its optimistic outlook on life. It's balanced immediately by the beautiful, slow ballad, "As Time Goes By," famous for its role in the film Casablanca. The isolation of the pandemic seemed like a perfect opportunity to record this number.
"Cheek to Cheek" and "Lady Be Good" call for tap dancing again—the first at a more moderate tempo and the second at a much more lively one. "Lady Be Good" uses twin mandolins so listen closely for the full effect of the mix in your stereo system. "Manoir de mes rêves" is another slow, beautiful ballad.
"Limehouse Blues" takes off like a rocket and "I Left My Heart in San Francisco" closes the album with a slow, sentimental evocation of a city Phil still loves deeply. It's played at exactly the same tempo as the Tony Bennett original recording.
Here are the tracks and the credits:
Avalon 2:08

Sweet Sue 2:40

Daphne 1:59

Shine 2:16

Coquette 3:46

Solitude 3:38

Swing 42 3:13

Fedora Swing 3:11

Easter Parade 2:45

Nuages 4:52

When the Red Red Robin 3:05

As Time Goes By 3:32

Cheek to Cheek 3:31

Lady Be Good 2:53

Manoir de mes rêves 4:25

Lime House Blues 2:00

I Left My Heart in SF 4:20
David Boyden—Violin 5, 7
Rick Fulkerson—Rhythm guitar 1-3, 5, 7, 10, 14; Bass 2
Eddie Guthman—Bass, all tracks except 2
Phil Lawrence—Mandolin, Guitar, Tenor Banjo, Octave Mandolin
Recorded, mixed, and edited by Phil Lawrence at Mandolinimal Studio
Mastered by Jeff Martin & Jason Andrews at Studio E in Sebastopol, Ca.
Cover Art by Kaya Guthman
Fedora Swing ©Phil Lawrence 2021
Mandolin Swing © & ® Phil Lawrence 2021
Contact Phil Lawrence http://phillawrence.com/home.html
https://www.facebook.com/phillawrencemandolin/
Indiegogo Campaign
https://www.indiegogo.com/projects/mandolin-swing/x/26162464#/
Songwriters and Copyright Owners
Fedora Swing
by Phil Lawrence
Copyright Phil Lawrence 2021
Sweet Sue, Just You
By Victor Young and Will J. Harris
Copyright Shapiro Bernstein and Co. Inc.
Coquette
By Johnny Green, Gus Kahn, and Carmen Lombardo
Copyright WB Music Corp. o/b/o Gilbert Keyes Music
Company and EMI Feist Catalog Inc.
Cheek to Cheek
By Irving Berlin
Copyright Irving Berlin Music Company
As Time Goes By
By Herman Hupfeld
Copyright Warner Bros Music a Div of Warner Bros
Inc.
Daphne
By Jean Reinhardt
Copyright Jewel Music Publishing Co. Inc. and EMI
Music Publishing France
Django's Castle (Manoir de Mes Reves)
By Django Reinhardt
Copyright Jewel Music Publishing Co Inc.
Oh, Lady Be Good
By George Gershwin and Ira Gershwin
Copyright WB Music Corp. and Ira Gershwin Music
When The Red Red Robin Comes Bob
Bob Bobbin' Along
By Harry Woods
Copyright Songwriters Guild of America
(In My) Solitude
By Duke Ellington, Eddie Delange, and Irving Mills
Copyright EMI Mills Music Inc, Sony/ATV Harmony, and
Scarsdale Music Corporation
Easter Parade
By Irving Berlin
Copyright Irving Berlin Music Company
Nuages
By Django Reinhardt
Copyright Colgems-EMI Music Inc. o/b/o Peter Maurice
Music Ltd
I Left My Heart in San Francisco
By George Cory and Douglass Cross
Copyright 1954, Colgems-EMI Music Inc.
Swing 42
By Django Reinhardt
Copyright EMI Music Publishing France and Jewel
Music Publishing Co Inc.
Avalon
by Al Jolson, Buddy DeSylva and Vincent Rose
Public Domain
Shine
by Cecil Mack and Lew Brown
Public Domain
Limehouse Blues
by Douglas Furber and Philip Braham
Pub;lic Domain