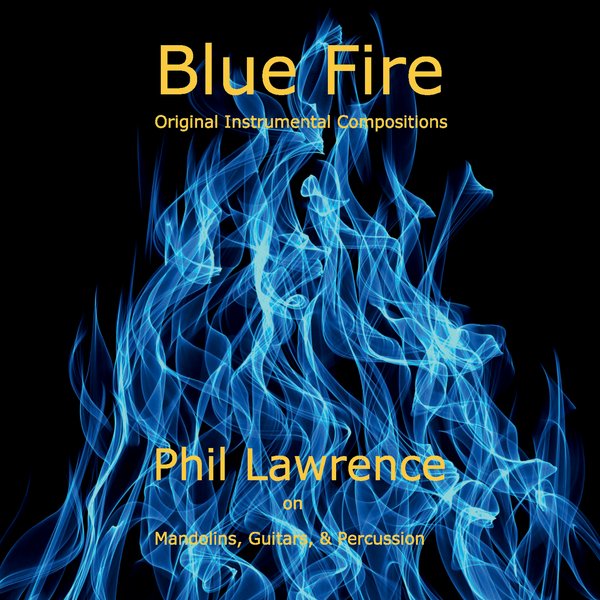 Blue Fire is a collection of twelve original instrumental compositions by Phil Lawrence. The CD was recorded and mixed by Phil Lawrence in his home recording studio. The bass parts were played by Eddie Guthman, the flute by Carrie Krueger, the violin by Richard Loheyde, and the tablas by Sahar Pinkham; all the other parts were played by Phil Lawrence—mandolins, guitars, congas, bongos, shakers, and octave mandolin.
The tunes represent a variety of genres and musical styles, reflecting Phil's wide ranging tastes and musical interests. The listener will encounter Brazilian sambas, gypsy jazz improvisations, a jazz waltz, an avant-garde jig, minor swing blues, a guitar finger-picking piece, a "classical" sounding tune, and a guitar ballad. Phil has been influenced mainly by David Grisman, the master of synthesizing musical genres to create compositions that defy categorization.
The opening number, "Sunday Groove," is a lively tune in a major key. It's optimistic progressions, topped by layers of bright mandolin harmonies, invite the listener to explore deeper into the musical journey. It's followed by "Twilight in Sonoma," a samba that Phil composed as a tribute to his home county in Northern California. In "Sebastopol Swing," a passionate gypsy-jazz number, the mood immediately changes, as Richard Loheyde's violin evokes images of an Old World campfire scene. "Deep in the Forest" was composed in the woods of northeastern Oregon. Carrie Krueger's flute blends beautifully with Phil's mandolin, allowing the listener to imagine the peace and tranquility of the deep woods.
"Pangea" is a lively jazz waltz inspired by Carlos Santana's "Europa": it has a similar chord progression although it is set to a three-quarter time signature, with a parallel minor bridge and a variant melody, to offer a completely different view of the Earth. The title track, "Blue Fire," a Latin-jazz piece, has a melodic line that tempers the percussive heat of the congas and the tablas. "Laughing" is a twin mandolin musical jest designed to imitate the sound of laughter. "The Flea Market Shuffle" is a minor blues with a moderate swing rhythm. Its simplicity provides Phil with ample opportunities to stretch out on his solos. "Dawg's Jig" is Phil's tribute to David Grisman. Listen to the twin mandolins in harmony on this tune and follow the creative bass lines of Eddie Guthman in the improvisational middle section. "Django's Blues," a tribute to Django Reinhardt, also contains an extended solo in a minor key. "Una Sera a Siena" is a harmonious ballad that features Phil's guitar playing, as does "Poem in D," a finger-picking piece with a syncopated turnaround and a mandolin melody as a musical cherry on top.
Phil Lawrence plays a 1912 Gibson F2 mandolin, a unique instrument with a rich golden tone. He also uses a 1988 Martin D28 guitar, and a Gitane D500 Django Reinhardt-style guitar. The CD was digitally recorded and mixed using high quality microphones. It was mastered by Jason Andrews at Studio E in Sebastopol. The listener is encouraged to sit in a quiet place and play the CD on a good quality sound system to enjoy the full sonic qualities of the recording and the performances.